As Kalamazoo College students, faculty and staff plan to return to campus, a tool from the Michigan Department of Health and Human Services (MDHHS) can help all of us Protect the Hive and prevent the spread of COVID-19.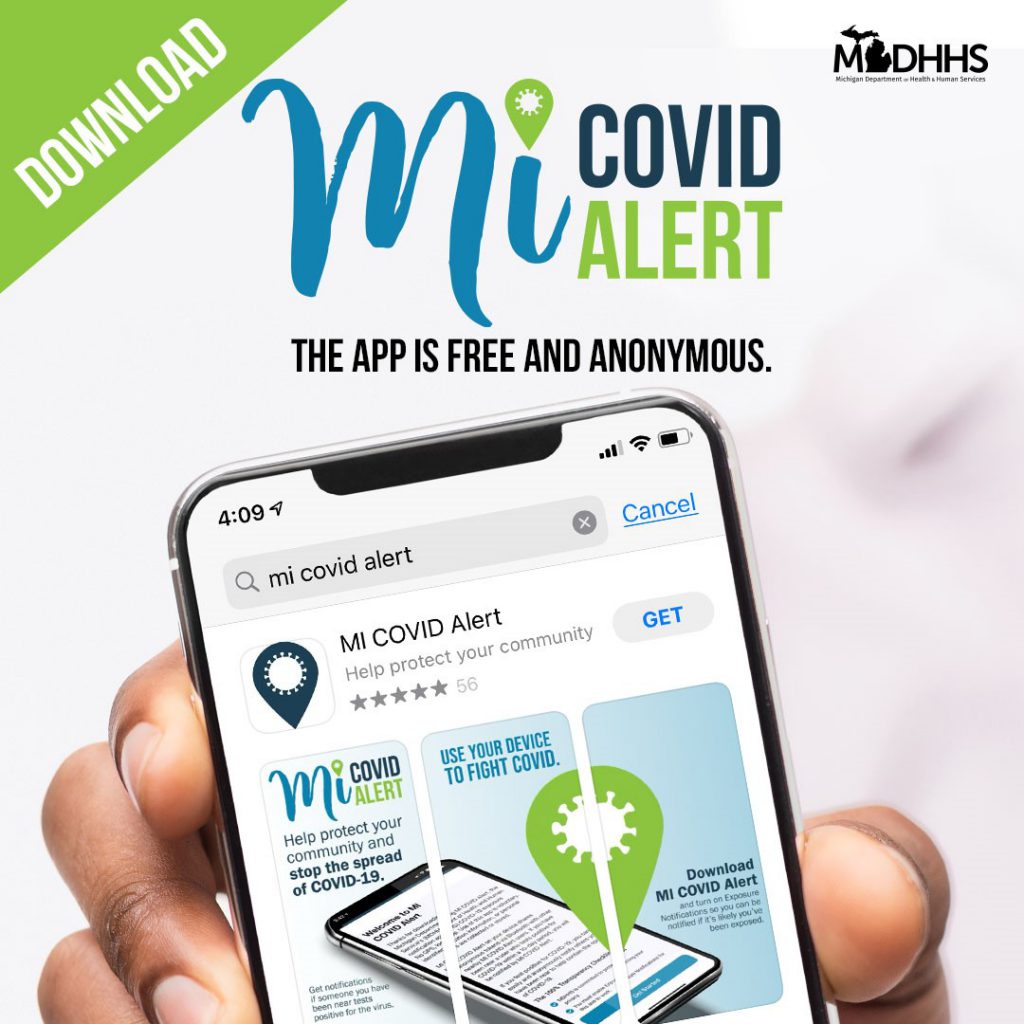 How it Works
MI COVID Alert is a secure and free contact-tracing app operable through Bluetooth on any Android- or iOS-based cell phone located in Michigan. No one at K will be required to use the app, yet it can efficiently alert users when they've been within six feet of someone who has tested positive for COVID-19 for at least 15 minutes. It also helps users track any symptoms and anonymously report when they've tested positive.
The app sends push notifications to users and maintains those notifications within the app platform itself. After it's conveniently downloaded through Google Play or the App Store, MI COVID Alert seamlessly updates itself regarding new cases every two hours in the phone's operational background without hindering any phone functionality.
"It's very easy, it's free and it's a way to be automatically notified if you've been exposed to COVID," Student Health Center Office Coordinator Jennifer Combes said. "Basically, you download it and you can forget it. As long as you turn on your push notifications, you don't have to check it every day. It will automatically alert you if you've been in close contact with someone who's tested positive. And if you personally test positive, it's an anonymous way to notify others that they've been exposed as well."
Designed with Privacy in Mind
The app will never publicly reveal a user's name, who they've met or their specific location. That means it maintains privacy and security while reducing the time required to alert people when they've been exposed. Combes was among the Student Health Center staff who consulted the College's technology experts in Information Services before seeking to use the MI COVID Alert app.
"Privacy advocates have been justifiably concerned about digital surveillance in response to COVID-19," Education Technology Specialist Josh Moon said. "We've seen some overreach already. The Bluetooth technology behind the MI COVID Alert app is a step in the right direction with its use of random codes and anonymity. I was comfortable installing it on my phone."
Contacts who receive push notifications of past potential exposure will be given the option to be put in contact with Public Health and may be subsequently enrolled in contact monitoring.
"Generally, a user who is exposed and voluntarily provides their phone number will get a phone call from a contact tracer," Combes said. "The contact tracer will go through what needs to happen from there. It might mean quarantining, it will mean watching for symptoms, and it might mean testing if there are any symptoms."
Participating helps support the efforts of local contact tracers. The number of COVID-19 cases continues to place a strain on state and local public health departments, and they are at capacity with contact tracing. The app can help speedup notifications and catch more potential exposures so people can take precautions sooner.
One More Tool in the Toolbox
MI COVID Alert can't replace good habits such as wearing a mask, washing hands, practicing social distancing, covering coughs and sneezes, and getting tested when symptoms appear. Regardless, Student Health Center representatives including Combes encourage its use to add another level of protection and prevention. The more people who download and use the app within a community, the more effective it becomes.
"The main goal is to control the spread of this virus," she said. "There are a lot of tools, but this one helps you know as soon as possible if you've been exposed so you don't expose others."
Learn more about the MI COVID Alert app at the MDHHS website.